Leave your thoughts
Handyman Services in Clifton
Navigating home maintenance in Clifton Park includes a range of tasks, from tending to dripping faucets to addressing faulty light fixtures. While some repairs can be managed independently, complex jobs warrant the expertise of professionals.
This is where the role of handyman services in Clifton Park becomes invaluable. Armed with a wealth of knowledge and skills, these experts can resolve many issues within and around your home.
So, without further ado, let's explore some quick home fixes that handyman services in Clifton Park can help you with.
1.      Plumbing Problems
Clogged drains and ruptured pipes are two examples of minor plumbing problems. Hiring qualified handyman services is usually wise when dealing with a plumbing issue. They possess the knowledge and equipment required to quickly identify the issue's core cause.
Engaging the services of a handyman serves as a proactive approach to circumvent the challenges and frustrations that often accompany tackling household issues on your own. For instance, the temptation to embark on a DIY repair journey may arise when faced with a persistently leaky tap or a bathroom fixture that refuses to cease its continuous flow. However, this path often leads to more complexities and inconveniences.
2.      Electrical Repairs
Inexperienced people should exercise caution when handling electrical problems. Even though a broken electrical wire or a blinking light fixture might seem like minor issues, they could be symptoms of more significant problems.
The best course of action is to hire handyman services in Clifton Park with experience in electrical repairs rather than putting yourself in danger. You can feel secure knowing the issue will be handled properly and effectively.
3.      Wall Repair
Any home will eventually need plasterboard repairs, whether or not it's a hole from a mishap or a fracture that has developed over time. DIY kits are available for minor fixes, but a professional's skills are needed for bigger ones.
Handyman services can readily repair any damaged plasterboard, guaranteeing a smooth surface that matches the remaining portion of your walls. You will have an expertly restored wall because they used the right equipment and techniques to fix and sand the region.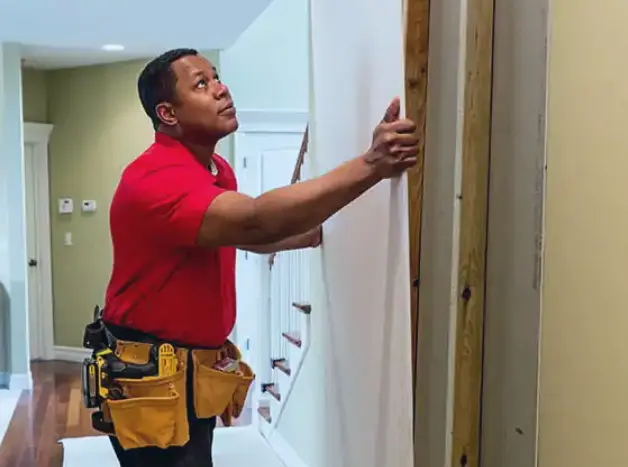 4.      Upkeep of Windows and Doors
Due to wear and tear, doors and windows may eventually become challenging to open and shut. This threatens not only their performance but also your home's security.
Any problems with windows and doors, such as misaligned hinges or broken locks, are simple fixes that handyman services in Clifton Park may perform. Furthermore, they can install weather stripping, enhancing energy efficiency and safeguarding against drafts.
5.      Repairing Deck
A deck adds value to any Clifton Park home, but proper maintenance is key to its longevity. Unsteady railings, loose boards, or decayed wood can all be swiftly evaluated by handyman services in Clifton, who are well-equipped to perform necessary repairs.
With their expertise and skills, they ensure that any structural issues are addressed, ensuring the safety and enjoyment of your deck for years to come.
6.      Assembling of Furniture
While purchasing new furniture might be thrilling, many people find the idea of assembling it to be intimidating. You can hire handyman services in Clifton Park to complete the task rather than wasting hours trying to understand complex instructions and looking for missing screws.
Moreover, engaging handyman services for furniture assembly guarantees a polished outcome. They pay meticulous attention to details, ensuring that all components fit seamlessly, hinges align perfectly, and fasteners are secure. This not only enhances the visual appeal of the furniture but also guarantees its stability and longevity.
7.      Patching and Painting
Walls can lose their luster, develop cracks, or even develop holes over time. By repairing broken sections, sanding, and repainting walls, handyman services can help give your house a new look. They know the right procedures to guarantee a smooth and perfect finish, giving your house a new lease on life.
Addressing patching and painting issues prevents further damage and deterioration. Whether it's repairing minor blemishes or tackling more extensive damage, their expertise guarantees that your walls regain their pristine state.
Wrapping Up!
Handyman services in Clifton Park have the expertise and qualifications to manage diverse tasks, ranging from plumbing and electrical repairs to fixing doors and windows, painting walls, and furniture assembly. By enlisting PowerHounds Property Services' help in Clifton, you can spare yourself the frustration often associated with DIY repairs. As a reputable provider renowned for our quality work, you can anticipate nothing short of complete satisfaction.
To ensure tasks are executed flawlessly, don't hesitate to seek our services the next time you encounter a home improvement challenge!